I love photography. I love to look at photographs from when I was a child. But in reality, we don't have photographs, but rather, slides. I love the quirky pictures of our family. With five children, rarely did we get a picture where we all looked at the camera and were smiling. Often the pictures from my childhood are taken a second too late or a second too early. Someone's eyes are closed or someones sticking their tongue out.
But, ya know what, those tend to be my favorite images. Why? Because they are real. There is no airbrushing or editing to those pictures. They are my history, how it happened. It is real.
I hate photo editing software that can change pictures and subjects in pictures. I know, I am in the minority, but I H.A.T.E. it. I think it creates false reality of what really happened and actually forgets that the best thing about life are the unplanned things.
Also, one thing that bothers me about modern day photography is how quick people are to use the delete button on their digital camera. If the picture does not meet the standard, many people are immediately deleting the picture. This is such a shame and something that is quite regrettable. I don't think any picture should be deleted from the memory card until it can be seen full screen on a monitor and even then, I suggest that only pictures that are quite aweful be deleted. There is something wonderful about those off-centered, child looking the wrong direction photographs that a perfectly posed picture just lacks.
Here are three pictures that we took on vacation. The first one is the nice posed picture. We can mostly see the children. WE can see the size and age of the children. We can tell who is who. We can see the lovely background of the mountains and the beautiful sky, but I don' t care for it. (Besides my long boring hair) it does not reflect who we are as a family.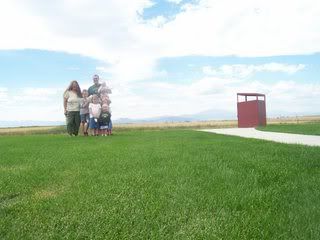 This picture reflects us more. All the kids lines up and then Mom not getting the timer right on the camera and you get my backside heading towards the family to take the picture.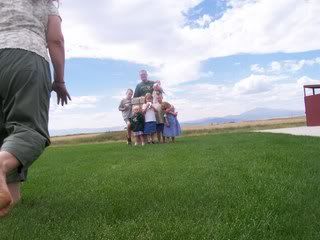 This is my favorite shot. This is a shot most would delete because it was not the desired shot. Instead, it turned out so much better, but it was not until we got home that I fell in love with this picture. This picture shows our family having a great time during a weary trip from one campground to another on the chilly plains of Wyoming. You can still see the beautiful sky and the mountain range behind it. You can see our excitement of being done posing for the required family pictures. You can see Miriam holding Thomas' hand because he was her favorite that day. You can see Thomas leading the pack. You can see Bethany's determination to be a big girl. You can see Abigail's determination to not let Bethany get ahead. You can see Nathan trying to be a clown and run to the front of the pack. You see Sean being the wonderful Daddy carrying Olivia like a seasoned pro.
All of those behaviors are a true reflection of each child, who they are and who God made them to be. They are not the posed positions we put them in. When this picture was taken, we thought it had already been taken and we were just on our way to do one last potty break before hitting the road.
I L.O.V.E. this picture. It is a true reflection of our family.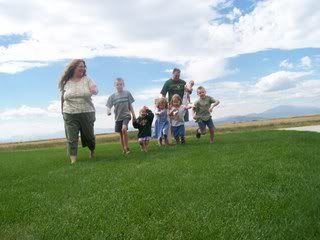 So, my encouragement to you all is to stop deleting pictures from your memory cards until you can really see them on the screen and even then, be careful what you delete and alter, you may just be deleting and altering the pictures that bring back memories in future days when your children are grown up have families of their own.
Now, go and take pictures of your family doing strange things and doing the ordinary and mundane things of life. You will be blessed, I promise you. Then come back and show me some of the wacky pictures that you chose not to delete, but rather keep to use as torture, I mean as a rememberance, once your children are adults.
Susan