I forgot that everyone did not grow up in my family and therefore grew up eating pudgy pies when they went camping. So in my last blog when I wrote about pudgy pies, most people did not know what they are. So, here is a photo demonstration of how to make pudgy pies. The pictures are from our big Colorado trip in 2007. They turned out a little dark. You want a golden brown sandwich. I don't mind my outer crust getting black. I just that as the handle to the sandwich and just throw the black crust away.

What you need.

Pudgy pie iron – This can be bought at Walmart or your local camping store. It is usually close to the hot dog sticks. They run between $10 and $15. The best kind are the cast iron variety, but I have not seen those in years. Now they are mostly made out of aluminum with a non-stick coating. It should feel heavy in your hand. Don't buy the ones that are too light. Also, make sure you buy one that is smaller than a piece of bread so there will be a nice seal.
Food

Bread – We us regular cheapo sandwich bread, either wheat or white. Don't use the fancy stuff, this is not a fancy sandwich.
Pizza fixings – We use sausage, pepperoni, pizza or spaghetti sauce, mozzerella cheese and anything else we want to stuff inside.
Cheeseburger – Browned hamburger, cheddar or american cheese, ketchup. We don't use onions or mustard, but you can add anything you like. I don't like the ketchup cooked so I add it after its cooked.

Chicken – Grilled/cooked chicken, cheese and anything else you want. I like corn and olives in mine. Starnge I know. I also like it with steak sauce.
Brat – My husband's favorite. It has cooked brat, ketchup and onions and anything else that floats his boat at the time.
Dessert – Canned pie filling.
Be creative. Whatever you like in a sandwhich or on a bun, will usually taste good in a pudgy pie. Its fun to try new things.

Let's get started.
So, the first thing you do is build a nice fire. You need hot, but slow cooking coals to make the perfect pudgy pie. A little secret my Dad taught me is to put charcoal at the bottom of the fire. The coals will develop more quickly and they will cook more evenly.
Next, butter the outside of the bread. I prefer butter over margarine. It tastes better and hey, I am from WI and only use the plastic stuff when forced to by lack of money. Put one piece in the iron, butter side down, making sure the gently push the bread into the iron.
Now, the fun part, filling it. Make it pudgy. Fill it with lots of stuff. I like to start by putting the cheese on the outside, just a nice, thin layer, then meat, then extras, then another layer of cheese. I prefer the cheese on the outside because nothing else soaks into the bread and the flavors on the inside blend together.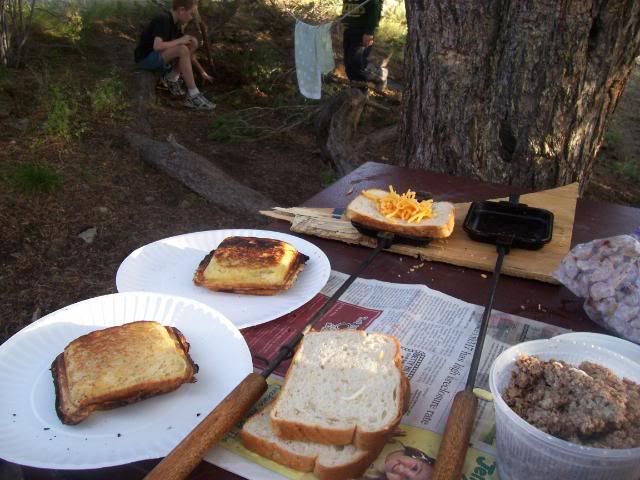 Then place the last piece of bread on top, butter side out.
We have arrived at the tricky part, puttin the second piece on. It takes practice to do it well, but the pay off is a yummy and juicy sandwich. When putting the second iron on, do it slowly and gently push the top piece of bread towards the top of the pie maker. There should be crust hanging out. You can either cut it off or leave it on. I like to leave it on and then hold onto the nice crisp black edge while eating.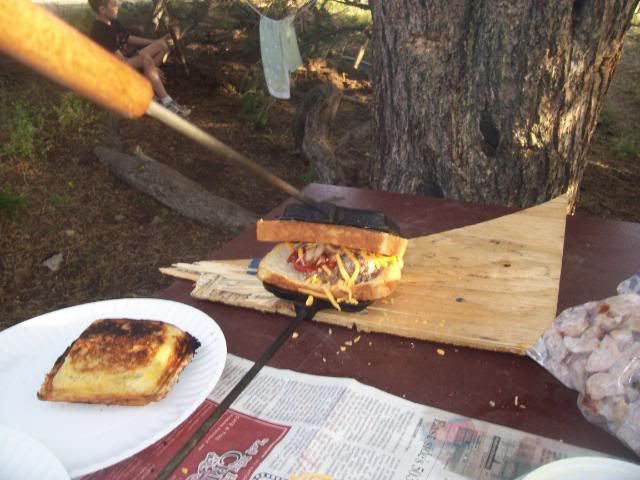 OK, onto the part that requires patience – cooking it. Remember, you want a slow cook to make sure the inside is hot and the cheese gets all melty. Depending on the heat of the coals, you want to let each side cook for 5 – 10 minutes. Check for doneness before flipping it over.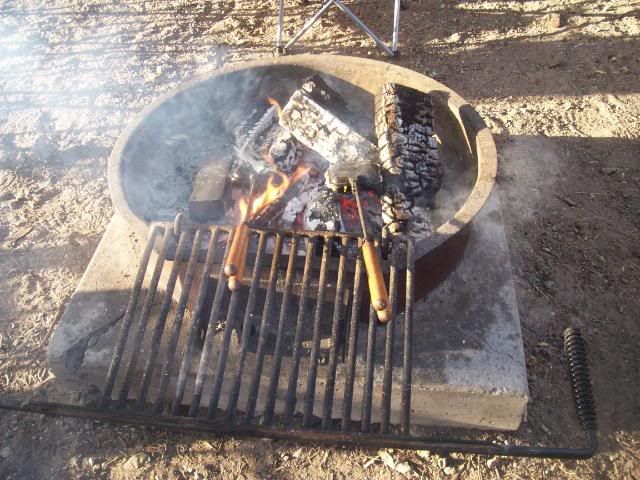 When you take the pudgy pie out, remember its going to be HOT, so make sure to set the iron on wood and not plastic. Keep it out of the reach of children. You also may want to let it cool partway before cooking another one. We cut our sandwiches in half before serving. For our little ones we let them cool for awhile.
Enjoy.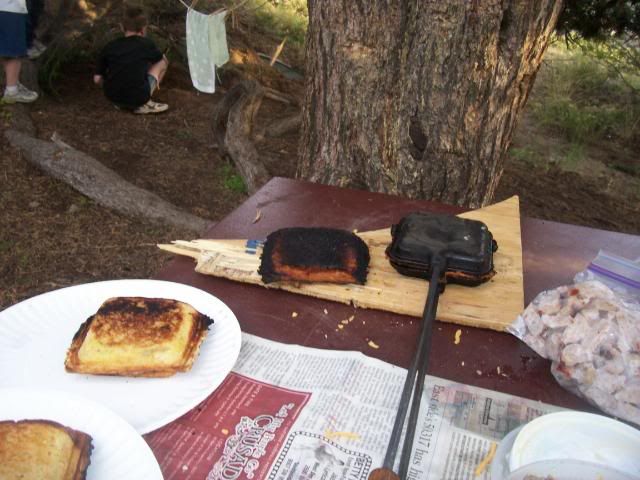 Like I said, the one you see in the iron got too dark. We threw it away (don't tell my Mom) and made another one. Notice the piece of wood under the hot iron. Works great. I made them on top of the Bear Box we had at Great Sand Dunes National Monument.
Any comments, questions or concerns?
A couple more things. Don't worry about cleaning your pie iron. Yes, make sure the food is off the inside, but expect it to get black and dirty. When storing them, losely wrap it in paper towel and secure the towel with a rubber band or twist tie. Use wooden utinsils to get the pudgy pie out if it sticks. Metal will remove the non-stick coating. Be creative and enjoy.
If you can think of any other combinations, please let me know. We are always interested in trying new things. One person has suggested marshmallow fluff, peanut butter and chocolate. I just don't know. And I was counting calories the last time we went camping, maybe next tiem.
Susan