Necessity is the mother of invention or so the saying goes.  Our church family is a wonderfully giving group of people.  In August a young lady was preparing to go off to college in another town.  As is the custom, our church family threw her a "college shower".  I asked her Mom what I could make.  She suggested an over the door hanging thing for her toiletry things. (I am borrowing this picture from Amazon.)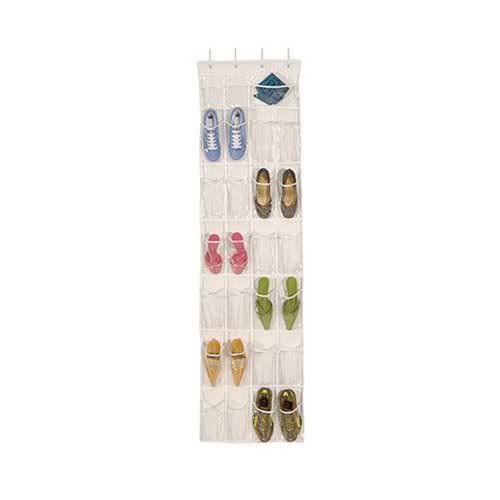 Exciting project to experiment try.  I kept putting it off.  As the week approached, I started to think of something else I could do, something easier.  But I decided that I could do it, probably in one day.  And I did.  I started in the morning and was done by the time Sean got home from work.  (Now, Sean may have worked late that day, but that is besides the point.)
Wanna see how it turned out?  Of course you do. And if you don't, then just humor me anyway.
The back (notice the pretty princess picture next to it, no that was not included in the gift.)
There are three ties at the top so she can secure it any way that works for her.  She can use hooks, command hooks, hang it over the door with the ties or whatever works.  It is also easily washed.
She is going to UNC, so the pretty blue flowers should fit right in.
And now filled with assorted things that every college student uses.
The ties double as securing it if she decides to bring it home on the weekend.
I am glad I did not take the easy way out and make something else.  Although, I may regret it because the girls have requested one for themselves.  Well, they want one to hang over both their doors and anywhere else they can hang it.  They will have to wait.
And as we come to the close of this post, I want to encourage you to pray for all those students who are off to college this year.  Pray that they would "Be strong in the Lord and make wise choices when it comes to friends, activities and classes."  And pray for their Moms and Dads too.
Susan