I have been making my own laundry soap for about 1.5 years now and I love it.  A couple weeks ago we made another batch and I had a few little helpers.
I use the Duggar Family Recipe.
4  Cups – hot tap water
1  Fels-Naptha soap bar
1 Cup – Arm & Hammer Super Washing Soda*
½ Cup Borax

– Grate bar of soap and add to saucepan with water. Stir continually over medium-low heat until soap dissolves and is melted.

-Fill a 5 gallon bucket half full of hot tap water. Add melted soap, washing soda and Borax. Stir well until all powder is dissolved. Fill bucket to top with more hot water. Stir, cover and let sit overnight to thicken.

-Stir and fill a used, clean, laundry soap dispenser half full with soap and then fill rest of way with water. Shake before each use. (will gel)

-Optional: You can add 10-15 drops of essential oil per 2 gallons. Add once soap has cooled. Ideas: lavender, rosemary, tea tree oil.

-Yield: Liquid soap recipe makes 10 5 gallons.

-Top Load Machine- 5/8 Cup per load (Approx. 180 loads)
What I did with the most recent round of supplies was grate all the soap and put one bar of grated soap into a ziplock bag.  Then I measured out the other powders and put them in another bag.  I closed each bag and then taped them for extra safety.  Makes the process go even quicker.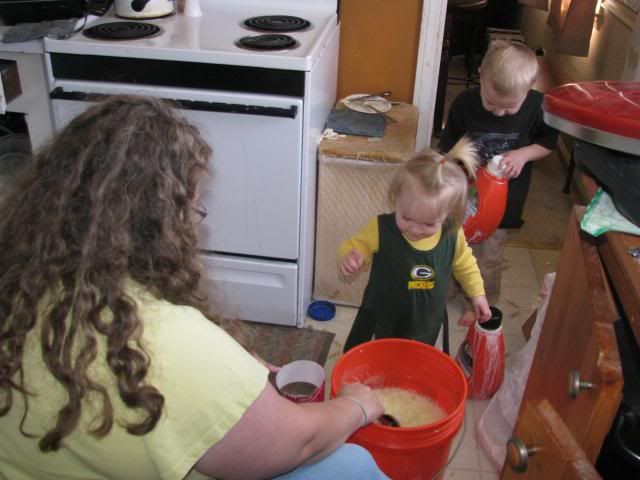 Here is where I had Elianna's and Caleb's help. In order to get it from the big bucket to the Tide containers, I cut a two liter soda bottle in half and used it as a funnel.  The 2 liter bottle worked better than a regular funnel because I could put the ladle all the way into the bottle.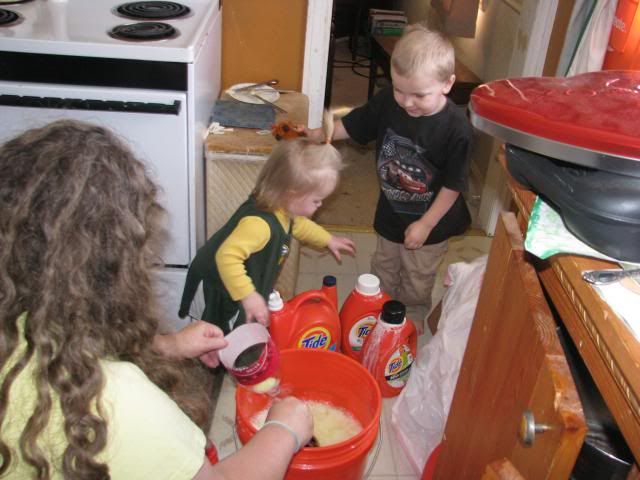 If I don't feel the orange bucket to the tip top, I can fit laundry detergent into 2 big containers and two smaller containers.  I use the two smaller containers and pour from the bigger ones into the smaller ones as needed.


We definitely need to shake it before we use because it does gel.  The girls and I also made some wool dryer balls, I will have to make another post about those.  We love them.
susan