March has been the month of slimming down the budget and one way we have done that is by making our own bread.  I have tried this in the past but it did not work long term, and by long term I mean more than a couple of weeks.  I am not into this adventure long term either, but at least I have accountability to do it by posting about it here.  It has also been a fun time to teach Bethany a new skill, she is my bread baking helper.
One of the first things I made was No Fail French Bread.  Now, no fail, how can I go wrong?  I made this about 3 months ago, I failed, it was horrible.  The kids ate it, I did not. I tried it again two weeks ago and got wonderful results, but I modified her recipe to be more realistic.  It has worked 5 or 6 times perfectly and only failed one time.  I am still not sure why it failed that one time.  Sean asked me if I remembered to add the yeast.  He slept on the couch that night, not really. Oh wait, he might have, but not because I was mad at him, but rather because we are trying to teach Levi to sleep through the night.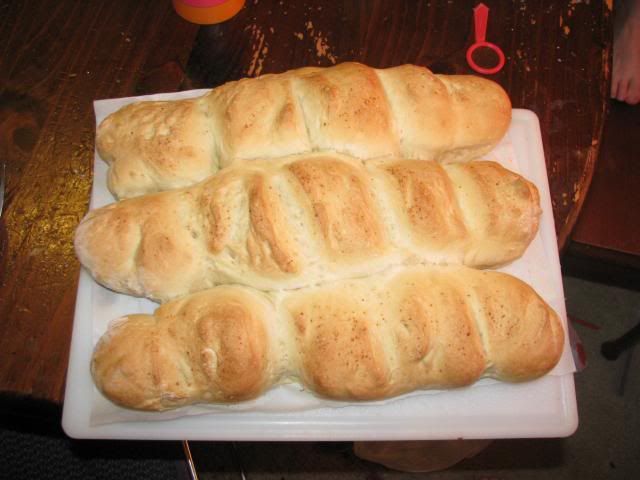 No Fail French Bread – the Susieb way.
No Fail Quick French Bread
Ingredients:
1/3 C lukewarm water
1 T  yeast

1 T – oil, I prefer olive oil
1 T salt
2 T sugar
2 C warm water
4 1/2 C – 6 C flour
1 egg (I have actually not done the egg wash yet, but I'll leave it here for future reference. )
Now I think her directions are way more complicated than they need to be so my friend Lori, who I would link here if she had a blog, but since her blog is only imaginary, I can't link it, wrote out simpler directions.  Since I am way too lazy to boil water, I have modified them once again.
Put yeast in a cup, but 1/3 cup warm water over yeast, stir.  Set aside for at least 5 minutes until proofed.
Get other ingredients out and organized.
In Kitchen Aid bowl, add oil, salt, sugar, and warm water.  (If the bowl is cold, the water should be a bit warmer so it does not loose all of its heat to the bowl.)
After the yeast has sufficiently proofed, add that to the KA bowl and add four cups of flour.
Mix and add flour 1/2 cup at a time until it pulls away from the side of the bowl.
Mix on high for 8 minutes. My mixer likes to try to jump off the counter, so I have to stay close by.  I also rarely mix it for 8 minutes, ain't nobody got time for that.
Let dough sit in bowl, covered, in a warm location for 20 or 30  or "oh hey I forgot I had french bread rising" minutes to rise.  It doubles, at least in size.
Punch the dough down, yes, just give it a gentle punch in the middle so it deflates.
I break it into three pieces.  Take each piece fold it in thirds, fold it in thirds the other direction and then just sort of gently stretch it.  I put it down and work on the other two and come back and work with the first one again until they are the length I want them. The warmer the dough, the easier it is to do this.  If you need pictures of how to do this, go to her blog, she has great pictures, but I do it differently than she does it and I make mine longer and thinner than she makes her.
Score in three places on top (make a diagonal dash with a sharp knife.)
Brush with (whisked) egg yolk, milk, water, or whatever.  I also add garlic salt or Parmesan cheese if I want to, on the top of the loaves.
Bake on a parchment paper lined baking sheet.
Place the loaves in a warm 170 degree oven and let rise for about 15 minutes.
Turn the oven up to 400 degrees for a regular oven. Leave the loaves in while the oven increases in temperature.  For us, the 400 degree interval needs to be about 20 minutes or longer.
Bake for 15 minutes, or until the loaves are golden brown and crusty.
Turn the oven down to 350  and turn the pan around in the oven. Bake for another 10 minutes.
The pictures she took look much better than mine.  If i did the egg wash, mine would be darker.  These were not the best loaves I have done, but they were the ones I remembered to take a picture of.  Thank you Lori for this recipe and letting me steal part of your written instructions.