Cut the Budget, Cut the Budget.  Bake Some Bread.  Cut the Budget.  Those two things go together.  But, it is hard low carbing it as my as I bake these yummy breads for my family.
We can easily go through two packages of hamburger buns in a meal or two so when my friend Sharon shared a recipe to make hamburger buns in 40 – 60 minutes, I knew I had to try it.  Now, these are not like store bought buns, they are so much better.
Buns before baking.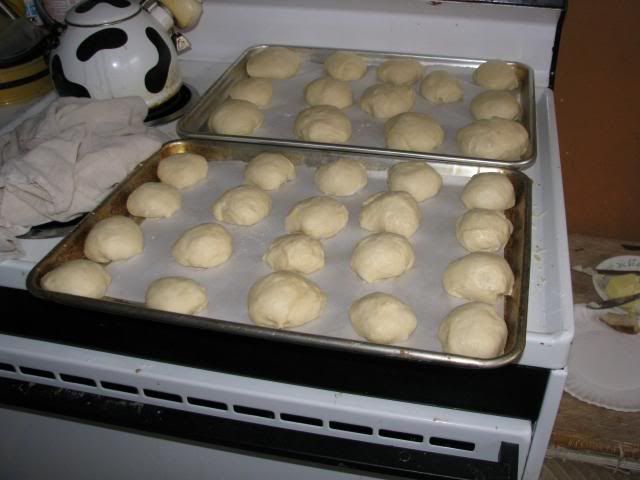 Buns after baking.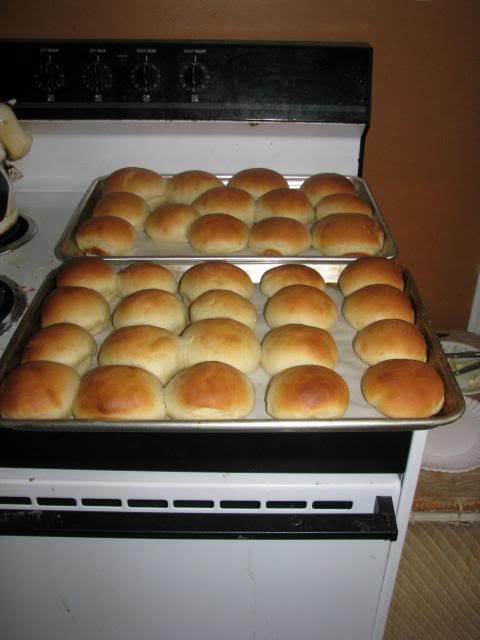 Ingredients

2 tablespoons active dry yeast
1 cup plus 2 tablespoons warm water (110° to 115°)
1/3 cup vegetable oil
1/4 cup sugar
1 egg
1 teaspoon salt
3 to 3-1/2 cups all-purpose flour

Directions

In a large bowl, dissolve yeast in warm water. Add oil and sugar; let stand for 5 minutes. Add the egg, salt and enough flour to form a soft dough.
Turn onto a floured surface; knead until smooth and elastic, about 3-5 minutes. Do not let rise. Divide into 12 pieces; shape each into a ball. Place 3 in. apart on greased baking sheets.
Cover and let rest for 10 minutes. Bake at 425° for 8-12 minutes or until golden brown. Remove from pans to wire racks to cool. Yield: 1 dozen.
I double the recipe.  I proof the yeast with about 1/2 a cup of warm water for at least 5 minutes before I add it to the bowl.  I let the Kitchen Aid do all the hard work of kneading the dough.  I make the rolls smaller than store bought, usually.  I let them rest and rise because until I wrote this, I did not realize I should not let them rise after kneading.  bwahaha.  I'll have to try them by the directions next time.
They make nice substantial buns.  We like these buns toasted with a little butter under the broiler.
Sweet Oatmeal Bread
My friend Kiersten shared this recipe with me.  I don't have any pictures because I ran out of oatmeal and I have to wait for payday to buy more.  I love this recipe because it is nice dense sweet treat of a bread.
Sweet Oatmeal Bread

for 2 loaves:

1.5 c old fashioned oats
2.5 c warm water
6 c AP flour
3 tsp salt
6 TBsp molasses
3 Tbsp sugar
3 tsp yeast

It's from a bread machine cook book. I add everything but the flour and mix it in my KA and add the flour until it's the right consistency.  Raise in a greased bowl until doubled, shape into loaves and put in bread pans, rise another 45 min.  Bake @ 375 for 35-40 min.
This bread does not rise above the pan, but that is OK, it is yummy.  Enjoy. Oh and one more thing, I have use part honey, part molasses and it is yummy.  I have used only honey and it is good too.
Thanks for stopping by and sharing my joy of bread.
susan