A regular white bread recipe is not hard to come by and there is not a lot of difference from one to another.  Traditional White Bread is the recipe I use currently.
Ingredients:

2 (.25 ounce) packages active dry yeast

3 tablespoons white sugar

2 1/2 cups warm water (110 degrees F

3 tablespoons lard, softened oil

1 tablespoon salt

6 1/2 cups bread flour
Directions

In a large bowl, dissolve yeast and sugar in warm water. Stir in oil, salt and two cups of the flour. Stir in the remaining flour, 1/2 cup at a time, beating well after each addition. When the dough has pulled together, turn it out onto a lightly floured surface and knead until smooth and elastic, about 8 minutes.
Lightly oil a large bowl, place the dough in the bowl and turn to coat with oil. Cover with a damp cloth and let rise in a warm place until doubled in volume, about 1 hour.
Deflate the dough and turn it out onto a lightly floured surface. Divide the dough into two equal pieces and form into loaves. Place the loaves into two lightly greased 9×5 inch loaf pans. Cover the loaves with a damp cloth and let rise until doubled in volume, about 40 minutes.
Preheat oven to 425 degrees F (220 degrees C).
Bake at 375 degrees F (190 degrees C) for about 30 minutes or until the top is golden brown and the bottom of the loaf sounds hollow when tapped.
Again, I proof the yeast in about 1/2 cup of warm water for 5 – 10 minutes to make sure it is going to work well.  Yum Yum, the kidlets love this bread fresh out of the oven and out of the toaster. I have Norpro 10 inch bread pans and this actually  makes three of those loaves instead of 2 loaves.  Well, it can make 2 loaves that size but the bread is about twice as tall as the pan and does not fit well into the toaster.
Sean dug out the White Kitchen Aid that I was given before we left Iowa.  That thing is a work horse.  Notice how it is just kneading the dough away while I watch.  Nice dough balls.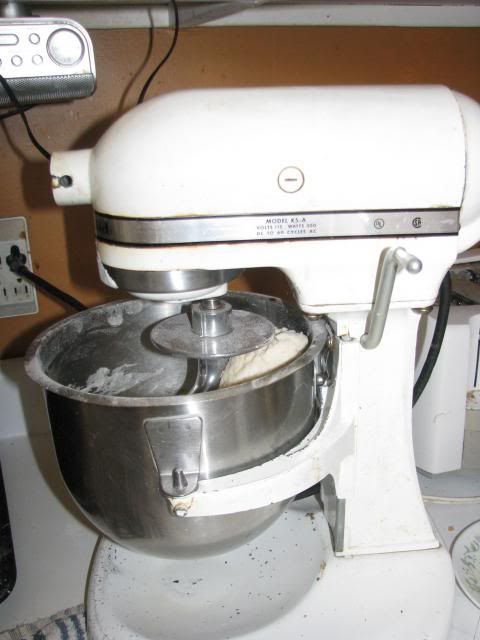 Caleb supervising to make sure it does not fall off the counter and it is the perfect consistency to let it rest and rise.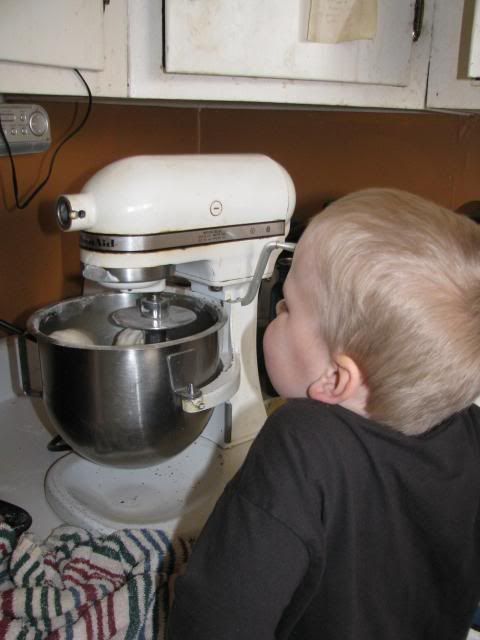 I used to think that mixer was over the hill and not as pretty as my blue mixer.  It is not as pretty, but that thing is a workhorse and I just love it.  I should name it.  What should I name it?  I'll have to think about that.
susan