I hate store bought bibs.  There I said it.  "They" say admitting it is half the solution.   By the time my babies start eating solid food (around 8 – 10 months) the bibs the stores sells are too small and not very conducive to my kidlets sizes and messiness.  They are also thin and too easy for my kidlets to pull off.
Being the crafty Mom I am, I found a solution to my problem.  I started to make bibs.  I started making bibs that are cotton flannel on both sides.  I made them with sew on snap closures.  Through trial and error, I decided I like Aplix (like Velcro) better.   And now that I have discovered PUL, I can make bibs that have a waterproof back and are still appealing to the eye and soft on baby's skin.   I love these bibs.  I have given some away as baby gifts.  I have given some away to people I love.  I have even sold a few.  I want to make more to sell.  They would make great baby gifts for you to give away (hint hint).   I need to go through my fabric stash and see what cotton flannel I have left.
I made up a bunch in January.  Did I say how much I love these?
Here is the group of Bibs I made.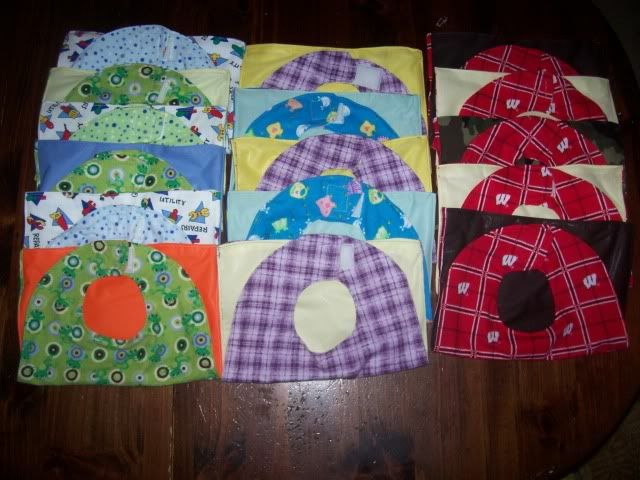 Here is a view of them closer up.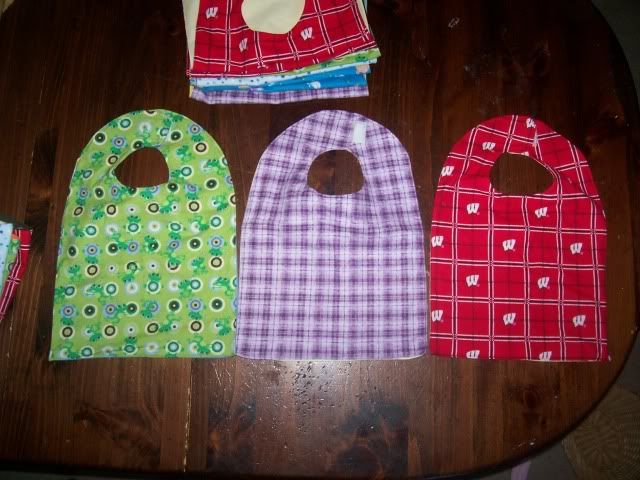 And to see the size here is Caleb, a big 2, showing off his favorite college team. Notice the full coverage of his shoulders and even the adjustable neck.  Caleb has a thick neck and it fits him.  It can even be made smaller.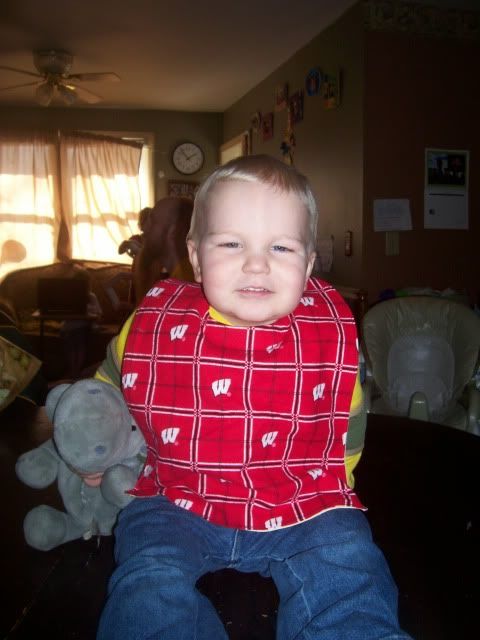 Caleb loves his Hippo, Baroo'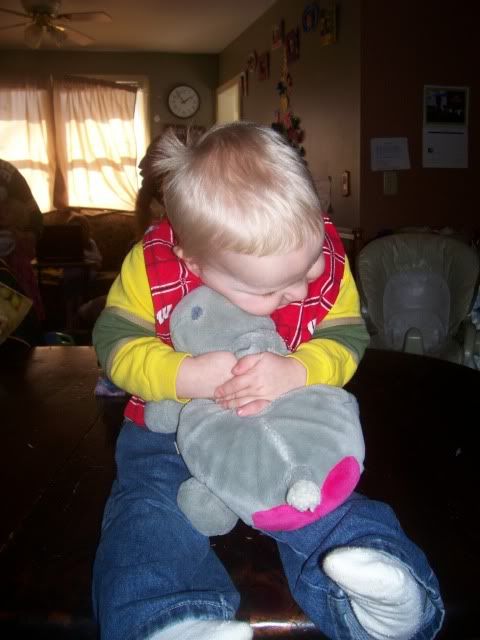 They are super easy to make.  First, find a big bib you like and trace it, make it a bit wider and a bit longer than you would like.  Trace the bib and cut it out.   Make sure to make the neck hole a little smaller than you think you will need.  You have to compensate for the seam allowance.  Sew it together, right sides facing each other, leaving the bottom open.  Turn right side out.   Make sure to push the bib seems all the way out, especially in the neck portion.  pin together the open bottom.  Sew around the entire bib to make a nice finishing stitch.  Pay special attention to the neck area, going slowly to keep the stitch consistent.
For sewing on the Aplix (like Velcro), make sure the soft/loop side is on the flannel side of the neck.  The hard/hook side should be sewn on the PUL side (f you use PUL).  This will help to keep the PUL in good condition.  When storing or washing, make sure to put the Aplix together to preserve the Aplix and prevent the velcro snake.
I hope this helps solve a problem of the too small bib.
Susan