I bought an Ergo baby carrier off of Baby Steals (where the deals change daily). I was going to buy an insert, but then I saw how pricey they were. You know me, I bought the baby carrier at a steal, I was not going to pay full price for an insert. I have a sewing machine, material, batting, thread, time and some talent, so I decided I would make my own insert. Surely there is a pattern or tutorial online. After searching for 30 minutes, I could find nothing. I did find the measurements of the regular insert, so I wrote those down and decided I would do the best I can with what I found.
Here is the instructions for use of the insert that I found on the Ergo Baby website, insert instructions. I found the finished measurements on another site. The finished measurements are about 19.5 inches by 19.5 inches. Those measurements include a 2.5 inch border that is a little thicker than the rest of the insert, as observed in the picture.  Because I do not make patterns for a living and because I do not know how to maintain a seem allowance for the life of me, I guesstimated everything a bit larger than I thought it would end up being. For our family and our big babies, I thought a little bigger was better.
What you need.
1 Yard of cotton fabric. I used a nice, soft terrycloth material.
Batting, or other soft but fluffy, yet somewhat stiff material.
Thread to match
Sewing machine
Scissors
Pins
Washable marker to trace the pattern
Patience
One hour to 90 minutes from start to finish. Quicker of you are a better seamstress than I am or if you have less distractions than I had. 🙂
Let's get started
First things first, I had to come up with a pattern. I decided I was going to make the center of the insert 16 inches wide and 18 inches tall. This would take into account the extra 2.5 inches on each side and the extra 2.5 inches on the top. I made the curve with the largest round lid I could find in my kitchen. (If you look really close, you can see I had to tape it back together after I made a hasty cut that I did not like.)
I chose to fold the pattern in half and then fold the material in half to cut the pattern out. Yes, I cut through four layers of material, not hard, but one needs a sharp scissors to do that. Which reminds me, I need to get my scissors sharpened. I also do a "no-no" and trace the pattern with a marker. I used to have a washable marker, but Caleb has relocated that marker and I have no idea where it ended up.
You need to also cut one layer of batting. I folded it over and place the pattern on the fold and traced away. I would have used an all cotton batting, but I used what I had in my house as I am part of a "use it up challenge" and don't want to be penalized by buying more stuff. You know, going into a fabric store, I have to buy more than is on my list.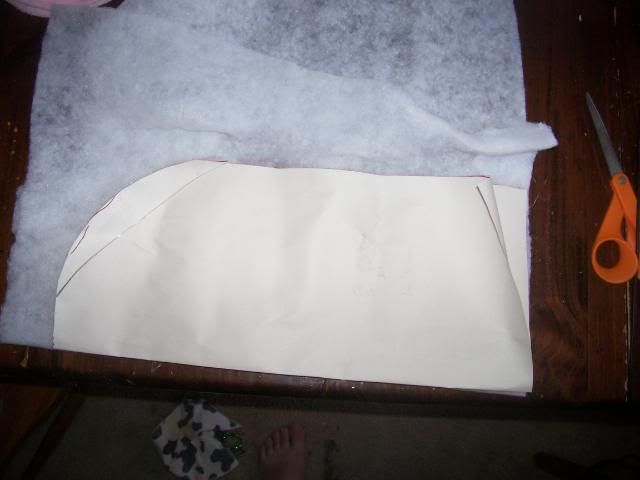 After cutting out the center pieces and the batting, it's time to cut out the border. I cut 6 inch wide strips from the leftovers that you see in the picture. Sew the pieces together lengthwise, right sides together, until you reach at least 52 inches long. You want the border to be longer than the insert. Make sure to measure twice and cut ones because I did not measure well and had to add more to it. (Just being honest.) Then cut out a piece of batting 2.5 inches – 3 inches wide (I used 3 inches) and put inside the border and pin together.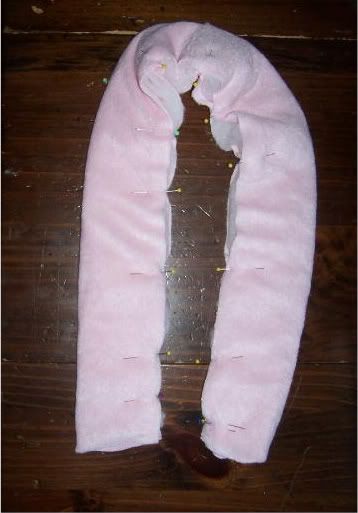 Now sew the border closed, right sides out. I used a zigzag stitch in all my sewing of the insert. I did not worry about a pretty seam because its going to be hidden inside. I made sure the batting went all the way to the outside of the seem. If you need to, cut the excess after sewing it closed. Do not sew the ends closed.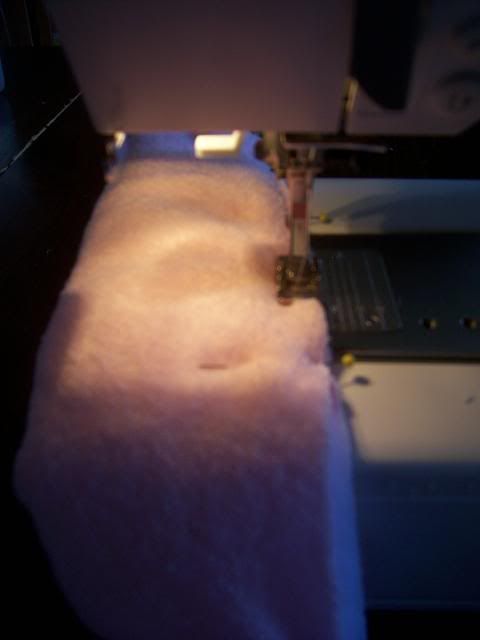 We have now arrived at the most difficult part of making the insert. Make sure to take your time doing this step and thinking through the process well. Time to pin the insert together. Here is how I did it.
Layer 1 – batting down first.
Layer 2 – Center piece, wrong side toward batting, right side up.
Layer 3 – Carefully pin the border to through layer 1 and 2. Starting in the middle of the top and going one direction, then coming back to the center and going the other direction. Make sure to sort of gather it around any curvy parts. After you have pinned those three layers together,
Layer 4 – Lay the last center part over the other layers, right side toward the border and wrong side up. Slowly pin this layer to the other layers being careful to make sure each layer is through the pin and all four layers are lined up.
THEN – Flip the entire thing over so the batting is on top. I prefer to sew with the batting on top. Now it should look like it does in the picture.
One change from the picture. Cut the border so that it is equal to the bottom of the center fabric and fold it in and pin it so you can give it a nice finished look. If you do this at this step. I will give it a nice finished look in the end.
Sew very slowly trying to maintain the same seam measurement. Sew slowly around the curve parts. Notice my very wide seam allowance. I did this because I was afraid I was not catching everything. When I made the second one (the blue one) I did not use such a large seam allowance.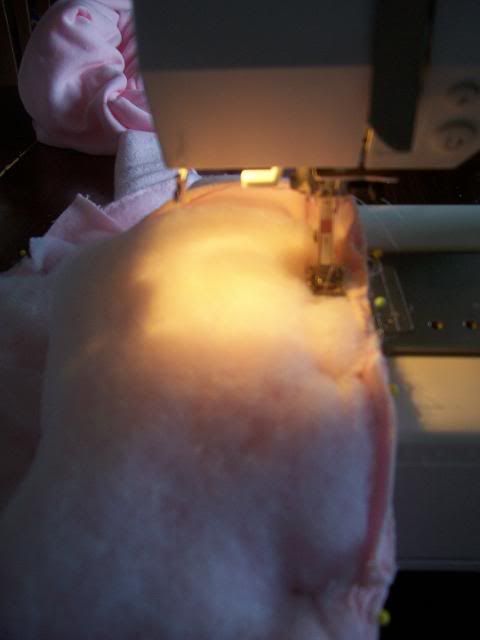 Time to finish up. Turn it right side out, making sure to push out all the seams. I then sewed the bottom closed by carefully folding the bottom in and zigzagging it close to the bottom. Then I top-stitched with a zigzag just inside the border, but on the center part. To finish it up, I tried to do a fancy wave stitch. When I make more and if I can find my washable marker, I am going to do a sun or a star in the middle instead of the wave. 🙂 The finished measurements are 19.5 inches wide and 20 inches tall. Perfect.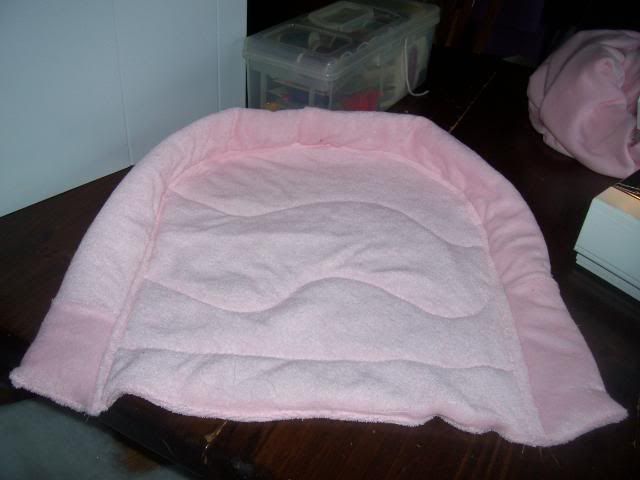 Here is the pink and blue together. I am prepared either way.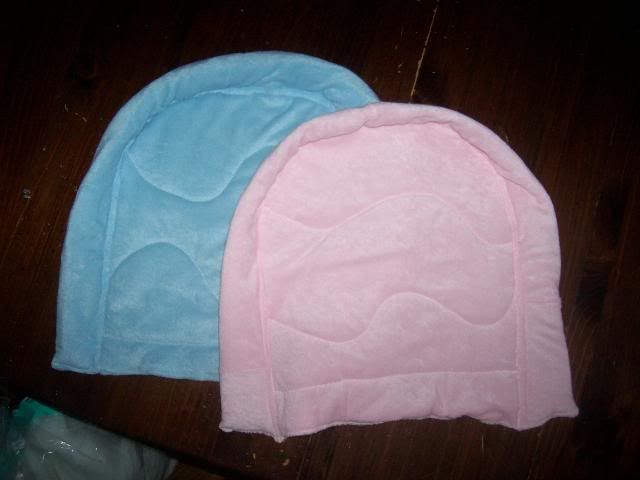 I hope to be able to make a another one after Gravy Baby is born and it can be cute and gender specific. I hope this can help you if you want to make your own insert. Make sure to read the proper way to use it on the ergo site at the top. Remember, a newborns legs should not be straight, but the knees should be bent and at hip height when in the carrier.
I hope you enjoy making your own insert for a fraction of the price of one through Ergo. I'll post pictures of Gravy Baby in the insert in the Ergo after he or she arrives.
If you have any questions, feel free to ask and i will try to give you an answer as best I can.
Susan