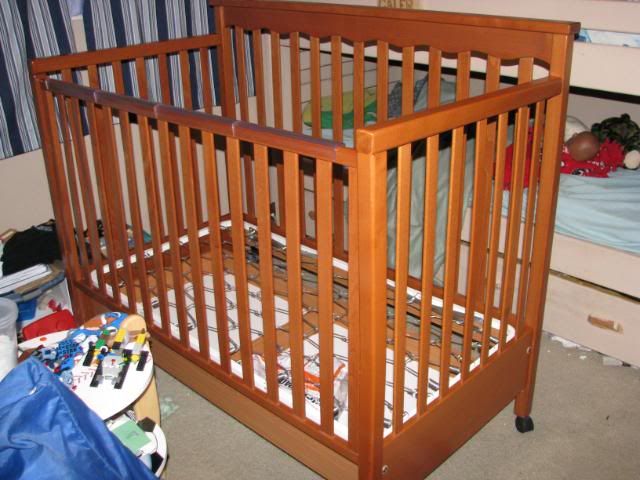 Please ignore the mess and the location, but that is the new crib we have prayed for.  We realized we needed to get a new crib when we found Miriam and Olivia jumping in Elianna's crib one day.  We had wanted to get a new crib before Elianna was born, but it was not God's plan.  We have prayed for a new to us crib for 2 years.  I have seen some that I have liked, but never had the money at the right time or they were too pricey.  So we continued to pray.
Now that Levi is here, I started looking again because I don't want to move Elianna out of her bed just yet.  One Saturday, on a whim, I looked at Craigslist.  There was a drop side crib listed for free and it was a beautiful pecan color and it was not girly and it was beautiful.  It was almost exactly like the crib we had wanted when Elianna was born, but we were too cheap to buy it then.  I want a drop side because I often have little people get the baby for me and honestly, I am short, I need the drop side.  I immediately e-mailed the person on Craigslist hoping we were not too late.  Free things go quickly on Craigslist.
I did not hear anything for almost a day.  I am so impatient.  I almost e-mailed again on Sunday,  but decided to just trust the Lord and if He wanted us to have it, He would work it out.  About an hour before we had to leave for church I got an e-mail asking if i could come and get it that night.  Of course.  I got dressed for church, grabbed a couple of kidlets and off we went.  We were there and back in about 40 minutes.
The crib was even nicer than I could ever imagine.  I love it.  It was like God had planned it. (duh Susan)  Every time I see it, it reminds me that God cares for us in the biggest and smallest ways, I am reminded that God's timing is perfect.  I am thankful for the very nice family who gave generously to a total stranger.  It is truly amazing to see how God works through His people.
So, today I am thankful, not only for the crib, but more importantly, I am thankful how God works today to remind us that He is our provider.
susan