Do you know we live about 3 blocks from a Krispy Kreme doughnuts and somenights when the wind blows just right we can smell the doughnuts wafting to our house.  Now just because Krispy Kreme is three blocks away does not mean we can afford to go there or that we even want to go over there to eat donuts.  (You can stop laughing now.)  I decided that with cutting the budget I could make doughnuts at home and set off to find a nice recipe.  I came across this recipe and the reviews were good, so we tried it.
Ingredients:

1/2 cup warm water (100 to 110

degrees F/40 to 45 degrees C)

2 (.25 ounce) packages active dry

yeast

1 teaspoon white sugar

3/4 cup milk, lukewarm

1/3 cup vegetable shortening

1/4 cup white sugar

1 teaspoon salt

2 eggs

4 cups sifted all-purpose flour

2 quarts vegetable oil for frying

1 tablespoon warm water

1/2 teaspoon vanilla extract

1 cup confectioners' sugar, sifted
Directions

Pour 1/2 cup of warm water into a small bowl, and stir in the yeast and 1 teaspoon of sugar. Allow the yeast mixture to stand until it forms a creamy foam layer on top, 5 to 10 minutes.
Place milk and vegetable shortening into a small saucepan over medium-low heat and cook until the shortening has melted and the milk has tiny bubbles around the edge. Remove from heat.
Place 1/4 cup of sugar and the salt into the work bowl of a large stand mixer and pour the milk and shortening into the bowl. Mix on low speed just to dissolve sugar; and allow mixture to stand until warm.
Beat in the yeast mixture, eggs, and 1 cup of flour on low speed until smooth. Gradually beat in remaining flour to make a soft dough.
Continue beating the dough on low speed until dough leaves the sides of the bowl, 2 to 3 minutes.
Turn the dough out onto a well-floured work surface and knead until smooth and elastic, 2 or 3 more minutes.
Form the dough into a ball and place into a large greased bowl. Grease the top of the dough, and cover the bowl with waxed paper. Set the bowl into a warm place; let the dough rise until doubled in size, 1 to 1 1/2 hours.
Punch down the dough and roll out on a floured work surface to 1/2 inch thick. Cut doughnuts out of the dough with a 3 1/2-inch round doughnut cutter with a 1-inch smaller cutter in the center. Let the doughnuts rise on the work surface until very light and fluffy, 40 minutes to 1 hour.
Heat oil in a deep-fryer or large saucepan to 350 degrees F (175 degrees C).
Gently pick up and drop the doughnuts into the hot oil, working in small batches of 2 or 3 at a time, and cook until the doughnuts are light golden brown, turning once, about 2 minutes.
Drain the doughnuts on paper towels to absorb oil.
In a bowl, mix 1 tablespoon of warm water and vanilla extract, and stir in the confectioners' sugar to make a glaze. Spread a thin layer of glaze over the warm doughnuts.
Step one says small bowl, so I thought a child sized cup would be OK. I put the yeast, sugar, and water in the cup.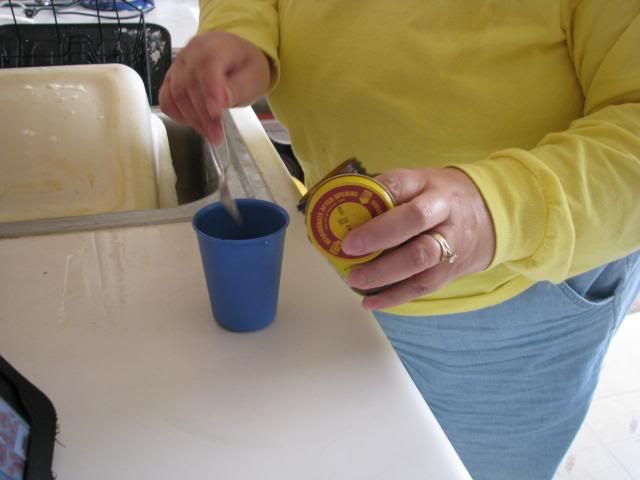 Miriam stirred and then we waited.  Well, we worked on the other part next.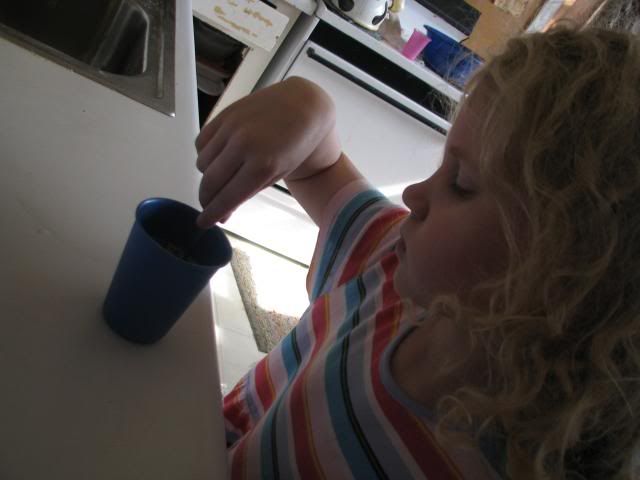 Milk and lard on the stove.  Next time, I start this first, it actually took the longest.   See the bread rising on the stove under the towel and the mixer ready to mix the doughnuts on the counter?  Ignore all the other clutter on the counter and the stains on the wall.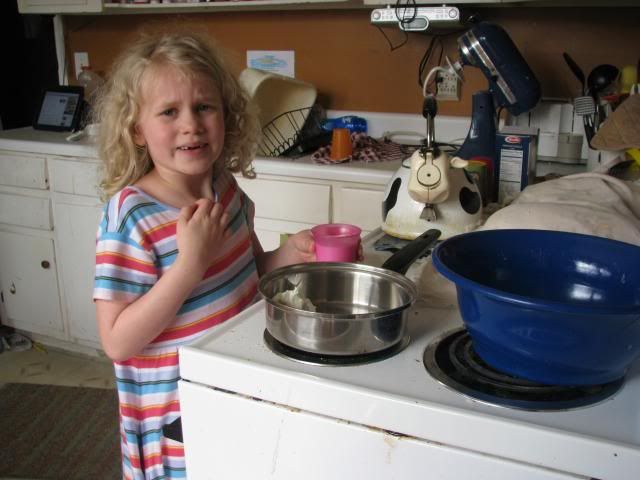 Looks much better now.  Pour slowly so it does not spill.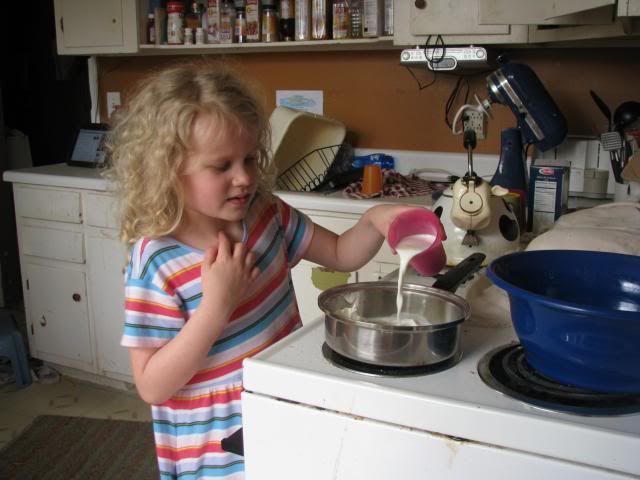 Did you wonder how the yeast is doing?  Well, let's mozy on over there and check.  It is growing.  The lard and milk is not ready yet.  We'll just let it go a bit longer.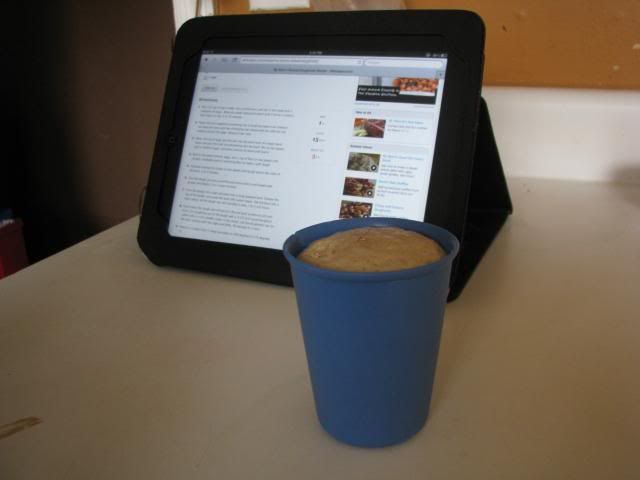 Look, Mom, Olivia is helping me.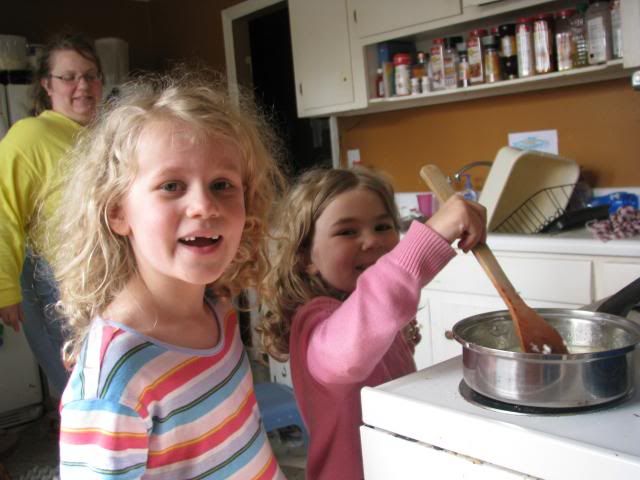 Oh, the yeast keeps growing.  Come look.  I hope it does not spill over.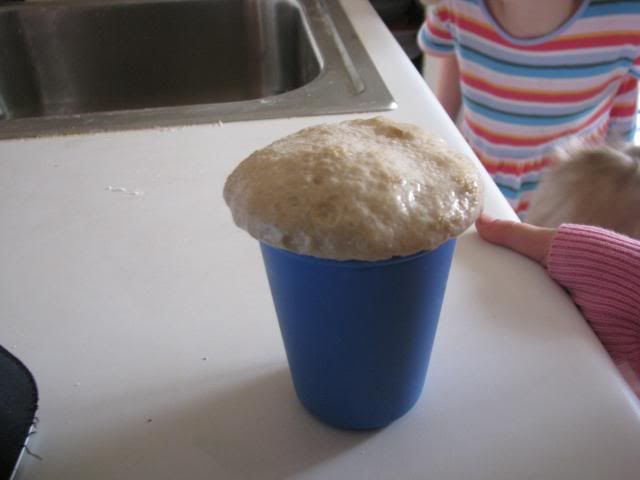 Hope deflated.  I should have used a bigger bowl.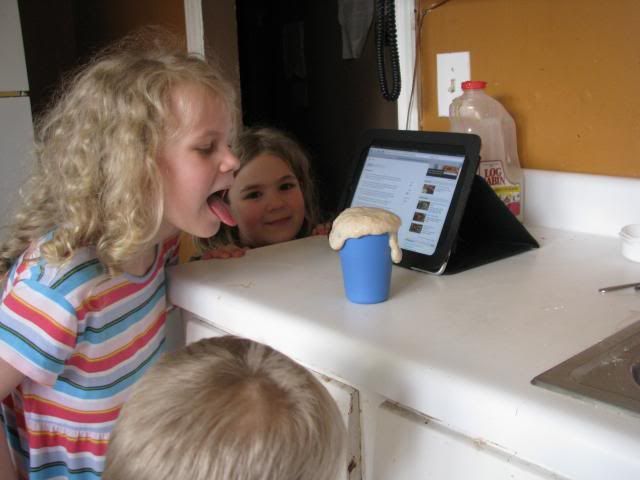 Yes, Miriam is a goofball who thinks it is funny to pose for funny pictures.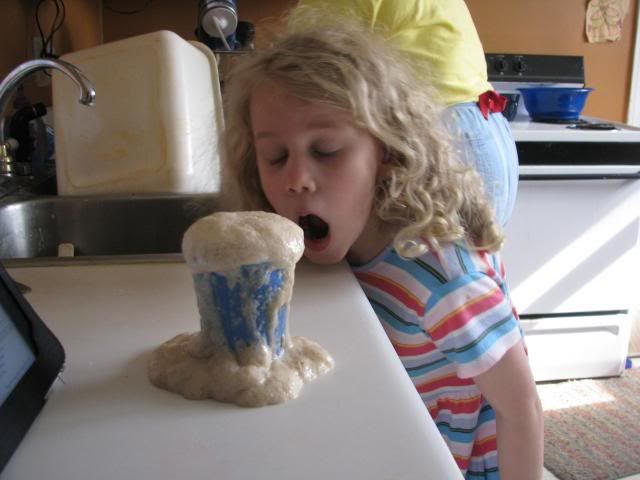 This is out of order, but what a goof.  I am too lazy to switch the two pictures around, you still love me, right.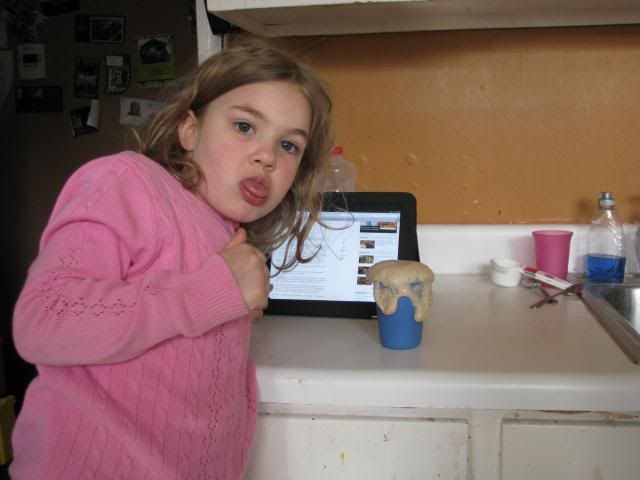 Time to make the doughnuts.  everything in the mixer and have a party.  Notice the bread got put in the oven.
Dough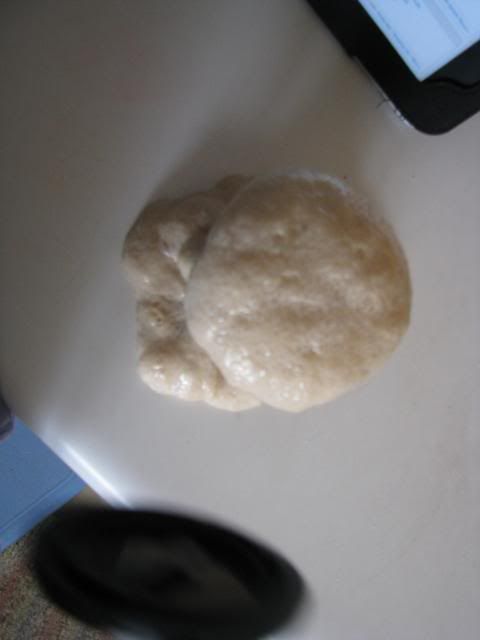 It is all risen now.  yum yum.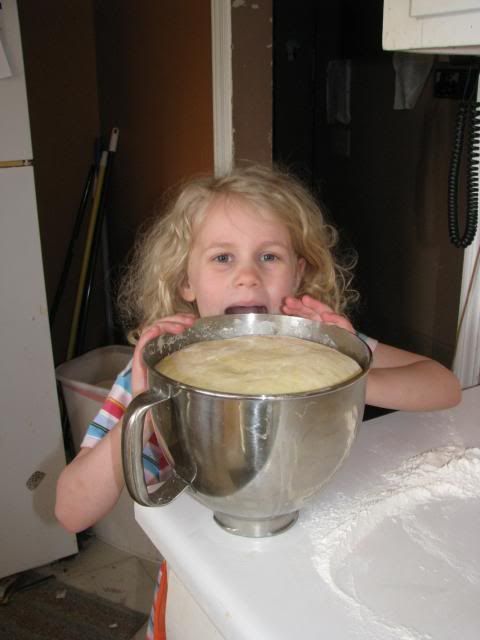 We rolled them out and cut them with a donut cutter from my childhood.  Here I realized my mistake, I rolled them much too thin, I won't next time.  Here they are before rise.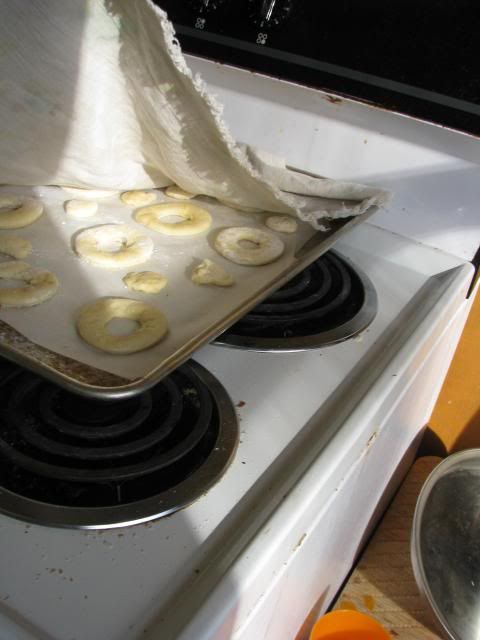 After the rise, before frying.  Those big clumps were leftovers that I did not want to reroll.  Next time, I'll rereoll them.
Jump in the oil bath boys and girls.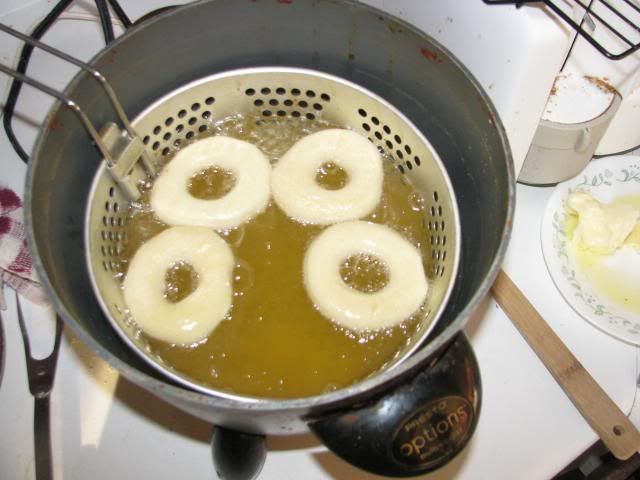 I should have fried them more on the first side.  Do you love my Kitchen Kettle, so wonderful and versatile.
Some stayed in their bath too long.


The leftovers.  they went from the fryer to be covered with glaze into people's stomachs.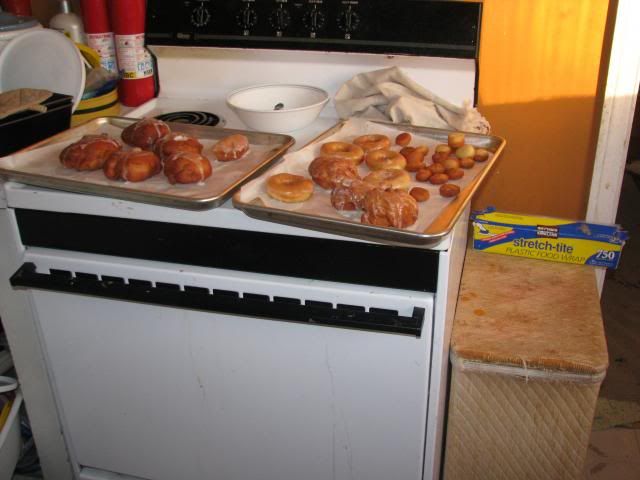 I learned a lot from that batch.  I will have to make them again to see how they turn out the next time.  The kids already talked about how they want to fill them.
susan